Välkommen Thrive Feed som sponsor till Summer Blast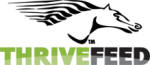 Ultra Low Sugars. No Raw Starch.
The feed decisions you make will affect your horses quality of life and also how long they remain useful and active. Make your horse healthy from the inside out. Horses are grass eaters, not fat eaters, they demand a low fat diet to sustain vibrant health. In the years to come you will reap the benefits of feeding nutrition that makes sense to a horses digestive system. When your horse is happy, calm, and content, everyone's happy. Thrivefeed is a low fat, highly useful tool to achieve outstanding results.
Klicka här för att komma till hemsidan
Thrive feed på facebook, klicka här
Stort tack till Josefin Hedstrand som fixat detta!